Its possible to work through anxiety, panic, trauma and pain without having it ruin every day.  Today I'm joined by my old friend Joe Ryan.  Joe has spent years working this process and offers some great insight on how to deal with anxiety, panic and even past trauma without being crushed by every memory, thought or sensation.  Thanks to Joe for spending time with us today!
Want to support my work in some way?  Here's how to do that!
Workshops and Courses To Help With Your Anxiety Recovery
——————————————–
https://learn.theanxioustruth.com
Join my Instagram Subscriber Group
——————————————–
https://instagram.com/the.anxious.truth
My Links (social media, podcasts, etc.)
——————————————–
https://theanxioustruth.com/links
Intro/Outro Music: "Afterglow" by Ben Drake (With Permission)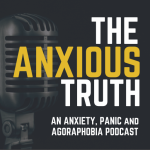 Subscribe To My Newsletter
Get notified when I publish new episodes! Get book updates, helpful information, inspiration and encouragement you can use in your recovery plan.
Find Joe Online