This was a bit of a different episode where I experimented with the "voice message" feature on Anchor.  I asked listeners to send in questions via voice message and I answered a few on the air.
Here they are by timecode:
1:50 – Jay asks about dizziness
5:06 – Connie asks about neck spasms
9:10 – Charli asks about driving, doctor visits, and panic while going through airport security
13:57 – Julie asks about small exposures vs giant leaps forward
16:15 – Clay asks about why having a video camera makes exposures easier
18:10 – A question from Marie-Anne about anticipatory anxiety
Want to support my work in some way?  Here's how to do that!
Workshops and Courses To Help With Your Anxiety Recovery
——————————————–
https://learn.theanxioustruth.com
Join my Instagram Subscriber Group
——————————————–
https://instagram.com/the.anxious.truth
My Links (social media, podcasts, etc.)
——————————————–
https://theanxioustruth.com/links
Intro/Outro Music: "Afterglow" by Ben Drake (With Permission)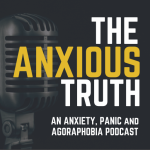 Subscribe To My Newsletter
Get notified when I publish new episodes! Get book updates, helpful information, inspiration and encouragement you can use in your recovery plan.