I've Written Three Books!
I've now written THREE books on anxiety and anxiety recovery. I plan to write at least a few more. I'm very proud of these books, and hopeful that you will find them useful in your anxiety journey.
Seven Percent Slower: A Simple Trick For Moving Past Anxiety And Stress
Learning how to SLOW DOWN, even when anxiety, fear and stress is demanding that you speed up, is a valuable tool in anxiety recovery and stress management. Seven Percent Slower is a friendly guide to understanding and changing your bad speed and rushing habit.  Learning to slow down helped me in my anxiety recovery.  It can help you too. 
The Anxious Truth : A Step-By-Step Guide To Overcoming Anxiety, Panic, and Agoraphobia
Released: June, 2020 (Kindle, E-Book, Print, Audiobook)
This is my comprehensive 70,000 word guide to understanding and overcoming panic, anxiety, and agoraphobia. The book is designed in much the same way a course or class is designed. If you are afraid, confused and lost, this book will help get you to a place where you are informed, clear, confident, and pointed in the right direction toward recovery.  It covers the nature of the problem and how you arrived here.  It explains why this is not your fault.  There is an entire section covering the proper approach to un-learning misplaced fear. The book will teach you how to make a recovery plan, how to execute it, and what to expect along the way.
Its taken me 34 years to gain the experience and knowledge needed to write this book, and another 7 months to actually put the words on paper.  I'm very proud of it, and I hope it proves useful.
You can find a sample chapter from the book here, and a sample audio lesson here.
An Anxiety Story : How I Overcame Anxiety, Panic, and Agoraphobia
Released: February 18, 2020 (Kindle, E-Book, Print, Audiobook)
I was once afraid, anxious, confused and lost. I was crippled with panic attacks, trapped by agoraphobia, and riddled with constant anxiety. I almost lost everything important in my life as my world became smaller and smaller.  This is the story of my journey through anxiety, panic disorder, and agoraphobia. The good, the bad, and the ugly of panic attacks, anxiety symptoms, irrational and obsessive thoughts, and being afraid to leave my house or be left alone. This is the story of how I went from an anxious, fearful mess, to living a full, normal life no longer controlled by anxiety or its limitations.  
You can get this book completely FREE in PDF or audiobook (mp3) format here!
Get Book News and Updates
If you'd like updates on new versions of these books, audiobook release news, and occasional chapters and samples, sign up for my announcement list.  I'll keep you posted now and then.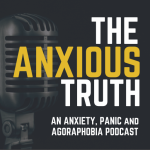 Subscribe To My Newsletter
Get notified when I publish new episodes! Get book updates, helpful information, inspiration and encouragement you can use in your recovery plan.
I promise to never spam you and NEVER sell or share your information with any third parties. Unsubscribe at any time.