What nobody wants to hear when it comes to overcoming anxiety and panic related problems. There's a large scale commitment/decision you MUST make before you can start making real lasting forward progress. If you can't make this choice at the macro level, you'll struggle with consistently making good choices day-by-day as you handle your anxiety problems.
Comments and questions always welcomed.
Want to support my work in some way?  Here's how to do that!
Workshops and Courses To Help With Your Anxiety Recovery
——————————————–
https://learn.theanxioustruth.com
Join my Instagram Subscriber Group
——————————————–
https://instagram.com/the.anxious.truth
My Links (social media, podcasts, etc.)
——————————————–
https://theanxioustruth.com/links
Intro/Outro Music: "Afterglow" by Ben Drake (With Permission)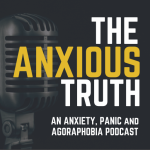 Subscribe To My Newsletter
Get notified when I publish new episodes! Get book updates, helpful information, inspiration and encouragement you can use in your recovery plan.