Jackie suffered from panic attacks and anxiety for years until she had a "lightbulb moment" and turned the corner. Join me as I chat with Jackie about how she went from the depths of anxiety to a normal life. Thanks for sharing, Jackie!
Want to support my work in some way?  Here's how to do that!
Join The Discussion Group
——————————————–
https://facebook.com/groups/TAGForum
My Links (social media, podcasts, etc.)
——————————————–
https://theanxioustruth.com/links
Intro/Outro Music: "Afterglow" by Ben Drake (With Permission)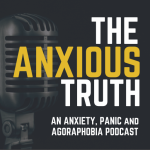 Subscribe To My Newsletter
Get notified when I publish new episodes! Get book updates, helpful information, inspiration and encouragement you can use in your recovery plan.