At some point, overcoming anxiety, panic, agoraphobia and other related issues means taking a leap of faith.  There will come a time when you have to stop reading, searching, thinking and discussing and take real action in the form of doing the things you fear the most.  Many people talk about waiting until it "clicks" with them before they do it.  This is a mistake.  It "clicks" after you do it.  Experiential learning – the cornerstone of recovery – only happens with experience and experience doesn't come from thinking or talking or reading.  It comes from DOING.
Happy to be back with my friend Holly discussing this important point!
Want to support my work in some way?  Here's how to do that!
Workshops and Courses To Help With Your Anxiety Recovery
——————————————–
https://learn.theanxioustruth.com
Join my Instagram Subscriber Group
——————————————–
https://instagram.com/the.anxious.truth
My Links (social media, podcasts, etc.)
——————————————–
https://theanxioustruth.com/links
Intro/Outro Music: "Afterglow" by Ben Drake (With Permission)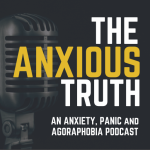 Subscribe To My Newsletter
Get notified when I publish new episodes! Get book updates, helpful information, inspiration and encouragement you can use in your recovery plan.