In this episode I'm joined by licensed therapist and certified sex therapist Leslie Gustafson to discussion how anxiety disorders can impact sex, intimacy and relationships in general.  Leslie and I talk about the general approach to this problem, some of the nuances, and  – surprise – we talk about how action oriented behavioral therapies are so effective in addressing not only the sex problem, but the anxiety disorders themselves. Thanks to Leslie for taking the time to help out!
Want to support my work in some way?  Here's how to do that!
Workshops and Courses To Help With Your Anxiety Recovery
——————————————–
https://learn.theanxioustruth.com
Join my Instagram Subscriber Group
——————————————–
https://instagram.com/the.anxious.truth
My Links (social media, podcasts, etc.)
——————————————–
https://theanxioustruth.com/links
Intro/Outro Music: "Afterglow" by Ben Drake (With Permission)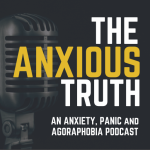 Subscribe To My Newsletter
Get notified when I publish new episodes! Get book updates, helpful information, inspiration and encouragement you can use in your recovery plan.
Find Leslie online here:
http://instagram.com/lesliegusafson1