The way you talk about your anxiety matters.  More than you think. Are you always speaking passively and just describing how you feel? Are you worried about what people will think about your anxiety? Do you fear that you are boring them, alienating them, or pushing them away when you discuss your anxiety?   Are you ready to adopt a more constructive active voice that reflects ongoing recovery?
This is a great question that came up in the Facebook group a few days ago, so I thought it was worth 15 minutes or so to talk about it.
Want to support my work in some way?  Here's how to do that!
Workshops and Courses To Help With Your Anxiety Recovery
——————————————–
https://learn.theanxioustruth.com
Join my Instagram Subscriber Group
——————————————–
https://instagram.com/the.anxious.truth
My Links (social media, podcasts, etc.)
——————————————–
https://theanxioustruth.com/links
Intro/Outro Music: "Afterglow" by Ben Drake (With Permission)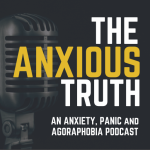 Subscribe To My Newsletter
Get notified when I publish new episodes! Get book updates, helpful information, inspiration and encouragement you can use in your recovery plan.
Photo by Christin Hume on Unsplash