If you're suffering with health anxiety – no matter how severe – Sarah's story will inspire you and give you hope. Join me as we look at Sarah's journey into completely out of control health anxiety, then back out to a place of calm and peace when it comes to her health and her state of being. Thank you so much to Sarah for taking the time to share her story!
Join The Discussion Group
——————————————–
https://facebook.com/groups/TAGForum
My Links (social media, podcasts, etc.)
——————————————–
https://theanxioustruth.com/links
Intro/Outro Music: "Afterglow" by Ben Drake (With Permission)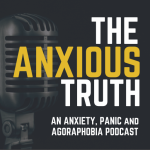 Subscribe To My Newsletter
Get notified when I publish new episodes! Get book updates, helpful information, inspiration and encouragement you can use in your recovery plan.
I promise to never spam you and NEVER sell or share your information with any third parties. Unsubscribe at any time.