My friend Andrew has gone from agoraphobic to well down the path to full recovery and was nice enough to take some time to share his story. We talk about how he got from "contented agoraphobic" to where he is today, what the future holds, and we we answer some questions asked in our Facebook discussion group. Thank you Andrew!
Want to support my work in some way?  Here's how to do that!
Workshops and Courses To Help With Your Anxiety Recovery
——————————————–
https://learn.theanxioustruth.com
Join my Instagram Subscriber Group
——————————————–
https://instagram.com/the.anxious.truth
My Links (social media, podcasts, etc.)
——————————————–
https://theanxioustruth.com/links
Intro/Outro Music: "Afterglow" by Ben Drake (With Permission)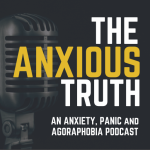 Subscribe To My Newsletter
Get notified when I publish new episodes! Get book updates, helpful information, inspiration and encouragement you can use in your recovery plan.