OCD and intrusive, obsessive thoughts are two of the most common issues encountered by people with anxiety issues.  They can be scary, hard to understand and difficult to deal with.  Difficult doesn't mean impossible though, so today I had a chat with OCD specialist Kimberley Quinlan (LMFT). Kimberly was kind enough to share lots of good information and resources in this one, along with a bunch of concepts you'll find very familiar if you've been following me for any length of time. Thanks to Kim for spending this time with us!
Want to support my work in some way?  Here's how to do that!
Workshops and Courses To Help With Your Anxiety Recovery
——————————————–
https://learn.theanxioustruth.com
Join my Instagram Subscriber Group
——————————————–
https://instagram.com/the.anxious.truth
My Links (social media, podcasts, etc.)
——————————————–
https://theanxioustruth.com/links
Intro/Outro Music: "Afterglow" by Ben Drake (With Permission)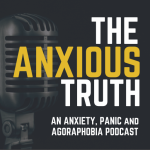 Subscribe To My Newsletter
Get notified when I publish new episodes! Get book updates, helpful information, inspiration and encouragement you can use in your recovery plan.
Find Kim on Instagram: @kimberleyquinlan or on her website http://cbtschool.com
Find the International OCD Foundation at https://iocdf.org/