Holly and I discuss chapter 8 of the Claire Weekes book "Hope and Help For Your Nerves". Dr. Weekes explains agoraphobia and walks us through how to approach it for best result. Holly and I spend a while talking about how we overcame agoraphobia and what difference its made in our lives.
Find the entire Hope and Help For Your Nerves video series here.
Want to support my work in some way?  Here's how to do that!
Join The Discussion Group
——————————————–
https://facebook.com/groups/TAGForum
My Links (social media, podcasts, etc.)
——————————————–
https://theanxioustruth.com/links
Intro/Outro Music: "Afterglow" by Ben Drake (With Permission)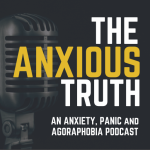 Subscribe To My Newsletter
Get notified when I publish new episodes! Get book updates, helpful information, inspiration and encouragement you can use in your recovery plan.