Today Billy and I talk about the basics of what exposure therapy is, how it fits into the overall scope of Cognitive Behavior Therapy, and how its important to have proper expectations for what exposure can do for you. Near the end of the episode we take some time to answer questions and comments from past episodes.
Want to support my work in some way?  Here's how to do that!
Join The Discussion Group
——————————————–
https://facebook.com/groups/TAGForum
My Links (social media, podcasts, etc.)
——————————————–
https://theanxioustruth.com/links
Intro/Outro Music: "Afterglow" by Ben Drake (With Permission)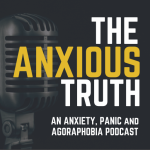 Subscribe To My Newsletter
Get notified when I publish new episodes! Get book updates, helpful information, inspiration and encouragement you can use in your recovery plan.
Find Billy at Anxiety United.