A panic attack isn't always a bad thing. In fact, when you're doing exposure work and trying to learn how not to be afraid of panic and anxiety, having a panic attack is virtually a requirement at some point. Only be experiencing panic without bracing, fighting, avoiding or fleeing can we truly learn that while our fear is real, the danger is not. This is the key to success, so welcome your panic and embrace panic attacks as chances to practice not being afraid!
Want to support my work in some way?  Here's how to do that!
Join The Discussion Group
——————————————–
https://facebook.com/groups/TAGForum
My Links (social media, podcasts, etc.)
——————————————–
https://theanxioustruth.com/links
Intro/Outro Music: "Afterglow" by Ben Drake (With Permission)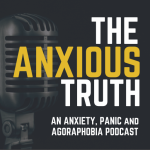 Subscribe To My Newsletter
Get notified when I publish new episodes! Get book updates, helpful information, inspiration and encouragement you can use in your recovery plan.
Find Billy at Anxiety United here.