Finding the causes of your panic attacks is a good thing, but not by itself. Its not what solves the problem of an anxiety disorder.
Stress, negative thinking, reactions to past traumas and emotional issues are just some of many possible panic and anxiety triggers. We're all different, our life circumstances are all different, and that means that there is no one "cause" for panic attacks.
Learning to identify your triggers and deal with them is an important part of recovery, but ONLY if you're also facing the panic and learning not to be afraid of it. Again, there's no way around that. Learn not to fear panic and in the long run it won't matter what happens in your life – you'll never spend your time worrying about having panic attacks again.
Find the original article we're discussing here.
Join The Discussion Group
——————————————–
https://facebook.com/groups/TAGForum
My Links (social media, podcasts, etc.)
——————————————–
https://theanxioustruth.com/links
Intro/Outro Music: "Afterglow" by Ben Drake (With Permission)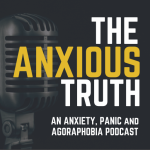 Subscribe To My Newsletter
Get notified when I publish new episodes! Get book updates, helpful information, inspiration and encouragement you can use in your recovery plan.
I promise to never spam you and NEVER sell or share your information with any third parties. Unsubscribe at any time.
Find Billy at Anxiety United here.