Following up on our initial talk about the basics of exposure therapy, Billy and talk about how repetition and practice are so important.  We discuss how practicing the small things and continually expanding your scope will make it easy to tackle larger tasks that are harder to practice (i.e. flying, or visiting the dentist).  Finally, we take some comments and questions on previous episodes.
Want to support my work in some way?  Here's how to do that!
Workshops and Courses To Help With Your Anxiety Recovery
——————————————–
https://learn.theanxioustruth.com
Join The Discussion Group
——————————————–
https://facebook.com/groups/TAGForum
My Links (social media, podcasts, etc.)
——————————————–
https://theanxioustruth.com/links
Intro/Outro Music: "Afterglow" by Ben Drake (With Permission)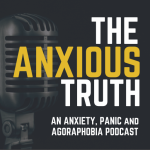 Subscribe To My Newsletter
Get notified when I publish new episodes! Get book updates, helpful information, inspiration and encouragement you can use in your recovery plan.
Find Billy at Anxiety United.