What Is Nervous Breakdown?
This week Holly and I discuss chapter 3 of Hope and Help For Your Nerves by Dr. Claire Weekes.  We discuss the use of the somewhat outdated term "nervous breakdown" as it relates to things like panic disorder and agoraphobia.  We talk about how Dr. Weekes defines nervous breakdown, her two classifications of breakdown, and some basic strategies for dealing with the issue including talk therapy and CBT.

For those interested in the book we mentioned, its The Anxiety & Phobia Handbook by Edmund Bourne, which is readily available at Amazon and other booksellers online.
Want to support my work in some way?  Here's how to do that!
Workshops and Courses To Help With Your Anxiety Recovery
——————————————–
https://learn.theanxioustruth.com
Join my Instagram Subscriber Group
——————————————–
https://instagram.com/the.anxious.truth
My Links (social media, podcasts, etc.)
——————————————–
https://theanxioustruth.com/links
Intro/Outro Music: "Afterglow" by Ben Drake (With Permission)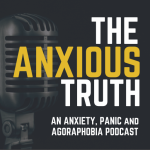 Subscribe To My Newsletter
Get notified when I publish new episodes! Get book updates, helpful information, inspiration and encouragement you can use in your recovery plan.