If you have someone in your life that you care about that's dealing with serious anxiety issues to the point where they can't leave home, or be alone, or work, or attend school, etc … then this video is aimed at you. Holly and I talk about what role you can play in helping and supporting someone you care about as they work on recovering from an anxiety disorder.
PLEASE WATCH PART 1 FIRST (Click Here)
Join The Discussion Group
——————————————–
https://facebook.com/groups/TAGForum
My Links (social media, podcasts, etc.)
——————————————–
https://theanxioustruth.com/links
Intro/Outro Music: "Afterglow" by Ben Drake (With Permission)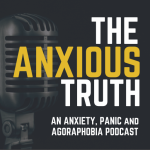 Subscribe To My Newsletter
Get notified when I publish new episodes! Get book updates, helpful information, inspiration and encouragement you can use in your recovery plan.
I promise to never spam you and NEVER sell or share your information with any third parties. Unsubscribe at any time.