LISTENER QUESTIONS AND ANSWERS
In this episode I take questions from listeners.  Some questions came in as voice messages on my Anchor podcast page.  Others were submitted on Instagram.  I wasn't able to answer all the questions because I only have 30 minutes or so for each episode, but I did my best to answer questions that were asked by multiple people.  I hope you find it helpful.
If you want to leave me voice messages on Anchor, you can follow this link.
Questions With Timestamps
2:47 – A listener with multiple diagnoses (GAD, OCD and depression) is unsure how to respond to different symptoms.  Her confusion is knowing which diagnosis a symptoms belongs to, and therefore what we should do in response.
8:25 – A listener asks what she can do to stop herself from turning a bad day into an entire bad week.  When she hits a bad day, she will obsess over it, digging herself into a deep hole that she really doesn't want to be in.
13:05 – "Do we really have to do nothing when panic comes?  Is distraction seen as "cheating"?
15:42 – "What are exposures for GAD (Generalized Anxiety Disorder)?
18:34 – "How do you deal with being agoraphobic and people doing things for you?"
20:44 –  "How do I stop myself from worrying about having that one huge panic attack that I won't be able to handle.  I worry that this one giant panic attack will finally break me and I will wind up in a psych ward."
26:43 – "Name one positive that anxiety has given you (remember, the lessons are in the shit!)."
30:08 – "My anxiety disorder makes me think that I can't make long term plans until I'm recovered.  Any advice for that?"
Want to support my work in some way?  Here's how to do that!
Workshops and Courses To Help With Your Anxiety Recovery
——————————————–
https://learn.theanxioustruth.com
Join my Instagram Subscriber Group
——————————————–
https://instagram.com/the.anxious.truth
My Links (social media, podcasts, etc.)
——————————————–
https://theanxioustruth.com/links
Intro/Outro Music: "Afterglow" by Ben Drake (With Permission)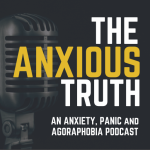 Subscribe To My Newsletter
Get notified when I publish new episodes! Get book updates, helpful information, inspiration and encouragement you can use in your recovery plan.