One of the most fun episodes I've done in a while.  Join me to hear how my friend Raven went from homebound agoraphobic, crippled with panic and intrusive thoughts and fears, to living her life, not being afraid of anxiety, and making plans for her future. If there was every an uplifting story from a lovely human being, it would be this one.  If you think you can't, here's about 30 minutes that will show you that you CAN!
Thank you Raven, for taking the time to share with us!
Want to support my work in some way?  Here's how to do that!
Join The Discussion Group
——————————————–
https://facebook.com/groups/TAGForum
My Links (social media, podcasts, etc.)
——————————————–
https://theanxioustruth.com/links
Intro/Outro Music: "Afterglow" by Ben Drake (With Permission)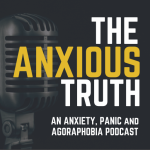 Subscribe To My Newsletter
Get notified when I publish new episodes! Get book updates, helpful information, inspiration and encouragement you can use in your recovery plan.