Lifestyle choices can influence your panic disorder positively or negatively. Eating a healthy diet can go a long way toward making you feel better overall. Avoid alcohol and mind-altering substances like recreational drugs. Anything that changes your mental state can be an anxiety trigger when you're in a hyper-sensitive state (as many in the grips of panic disorder are).
Get regular exercise and expose yourself to sunlight for at least 15 minutes every day if you can (use sunscreen when needed of course). Get plenty of sleep. Learn effective time and stress management techniques. Don't ignore your emotional and spiritual needs. Living a healthy lifestyle make you feel better physically and mentally, and can really contribute to boosting your confidence and the feeling that you are in control of your life!
Find the original article we're discussing here.
Want to support my work in some way?  Here's how to do that!
Workshops and Courses To Help With Your Anxiety Recovery
——————————————–
https://learn.theanxioustruth.com
Join The Discussion Group
——————————————–
https://facebook.com/groups/TAGForum
My Links (social media, podcasts, etc.)
——————————————–
https://theanxioustruth.com/links
Intro/Outro Music: "Afterglow" by Ben Drake (With Permission)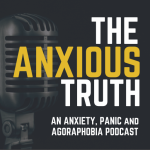 Subscribe To My Newsletter
Get notified when I publish new episodes! Get book updates, helpful information, inspiration and encouragement you can use in your recovery plan.
Find Billy at Anxiety United here.