When it comes to dealing with anxiety issues, you must understand that fear feeds the beast!  Your symptoms – the way you feel – do not equal anxiety.  Rather, its how you react, and the fear you create in your own head, that fuels the fear cycle and ultimately your anxiety.
Find the original article we're discussing here.
Want to support my work in some way?  Here's how to do that!
Workshops and Courses To Help With Your Anxiety Recovery
——————————————–
https://learn.theanxioustruth.com
Join my Instagram Subscriber Group
——————————————–
https://instagram.com/the.anxious.truth
My Links (social media, podcasts, etc.)
——————————————–
https://theanxioustruth.com/links
Intro/Outro Music: "Afterglow" by Ben Drake (With Permission)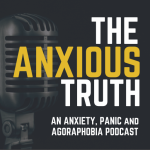 Subscribe To My Newsletter
Get notified when I publish new episodes! Get book updates, helpful information, inspiration and encouragement you can use in your recovery plan.
Find Billy from Anxiety United here.