When you're dealing with an anxiety disorder – panic attacks, agoraphobia, generalized anxiety, etc. – your natural tendency will be to do whatever you can to avoid feeling anxious or afraid.  This is to be expected as human beings naturally seek safety and comfort.  Natural though it may be, this approach is not helpful in any way.  In fact, retreating and avoiding your anxiety will only make things worse.
In reality, the path to success involves doing the exact opposite of what you want to do.  This can be difficult because it means you must summon the courage to face your fear, and you must ignore your survival and safety instincts. Understanding and embracing the "opposite strategy" can help to propel you forward when all other factors in your life are pulling you backward.
The "Opposite Strategy"
"I'm the opposite of every man you've ever met." – George Costanza ('Seinfeld')
The plan is simple.  Think about what you want to do, especially when you're feeling badly, and do the exact opposite.
If you want to cancel your plan to have lunch with a friend …don't. Do the opposite!  Don't cancel.  Go, no matter how you may feel.
If you want to stay in bed and hide under the covers … don't.  Do the opposite!  Get up, take a shower, get dressed.
If you want to run back home because you're worried that you might have a panic attack … don't.  Do the opposite!  Stay where you are and let the panic come if it will.
If you want to check your pulse or visit WebMD to see if you're dying …don't.  Do the opposite!  Keep your hands off your wrists or neck and turn off your computer. Just let the sensations be there with you without reacting to them and you'll learn through direct experience that you are not in any danger.
If you want to complain about how people "don't understand" …. don't.  Do the opposite!   Take an objective look at yourself and your behaviors, and put yourself into the shoes of your husband or wife or friend or whomever.  Try to see how they would have a hard time understanding why you're afraid to go your grandma's birthday party.
If you want to go online to seek validation from others that also suffer with anxiety related issues … don't.  Do the opposite! Seek encouragement and empowerment instead.  Seek inspiration from those that are making progress ahead of you.  Seek success stories and let them show you the way forward.
I can list pages upon pages of these, but you get the idea.
Its Not Automatic
Doing the opposite is not automatic for any of us.  In fact, its very difficult because it requires concentration, focus and a healthy dose of both self-awareness and self-honesty.  Don't be disheartened if it takes you a while to get good at this.
In order for the "opposite strategy" to be truly helpful, there are some important points that you have to be aware of.
You will be uncomfortable.
You will be afraid.  More afraid in the beginning. Less as you progress.
You MUST do the opposite no matter how you feel.  Unless you are physically ill or incapacitated due to actual injury, make no excuses to retreat and avoid. That does nothing to help you.
You MUST be tenacious and persistent.  Be aware of your decisions at all times so you can do the opposite when needed, even on "bad days".
Be sure that the people close to you know what you're doing. If you're frustrated by a lack of support or understanding in your life, showing an effort can go a very long way toward building that personal support base we all need. In most cases you don't need to go from housebound to a world cruise in a week.  Even a few trips to the local shopping mall can turn your family and friends around and get them in your corner.
Want to support my work in some way?  Here's how to do that!
Join The Discussion Group
——————————————–
https://facebook.com/groups/TAGForum
My Links (social media, podcasts, etc.)
——————————————–
https://theanxioustruth.com/links
Intro/Outro Music: "Afterglow" by Ben Drake (With Permission)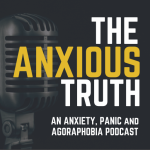 Subscribe To My Newsletter
Get notified when I publish new episodes! Get book updates, helpful information, inspiration and encouragement you can use in your recovery plan.
—
Intro/Ending Music Credit: Title Autumn Day (Kevin MacLeod – incompetech.com) Licensed underCreative Commons: By Attribution 3.0