If you're in the grips of anxiety, panic, agoraphobia or PTSD you may feel powerless and incapable of doing what needs to be done to change things. This isn't true. Monique and I talk about how you have power and control even in the darkest moments. You are not stuck. You are capable of making the changes you need. You might just need to change direction, and you can!
Want to support my work in some way?  Here's how to do that!
Workshops and Courses To Help With Your Anxiety Recovery
——————————————–
https://learn.theanxioustruth.com
Join my Instagram Subscriber Group
——————————————–
https://instagram.com/the.anxious.truth
My Links (social media, podcasts, etc.)
——————————————–
https://theanxioustruth.com/links
Intro/Outro Music: "Afterglow" by Ben Drake (With Permission)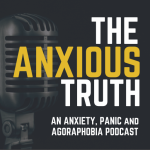 Subscribe To My Newsletter
Get notified when I publish new episodes! Get book updates, helpful information, inspiration and encouragement you can use in your recovery plan.
Find Monique Online
——————————
https://cptsdcoach.com
https://www.facebook.com/cptsdcoach
https://www.instagram.com/cptsdcoach/