The Anxious Morning is a project I've been working on for about a year.  On January 3, the first edition of The Anxious Morning will hit the street, and the airwaves!
My goal with this project is to give you a more in-depth discussion of important anxiety and recovery topics that you can consume outside the chaos and algorithm madness that is the endless social media scroll.  Subscribe free to The Anxious Morning email newsletter and have everything dropped in your inbox each weekday morning.  Follow The Anxious Morning podcast on your favorite podcast app and listen to each episode as you start your day.
These will be little 300-500 word newsletters and 3-5 minute podcast episodes that you can consume when in a quiet time, reflect on, then hopefully use as you go forward in your day.  I'll share some of my own stories, we'll go over recovery tips and techniques, I'll give you things to think about and work in, and I'll do my best to educate, encourage and empower you on your journey.
I've always wanted to do a little morning "show" this way, and I love to write, so this is the best of both worlds, and hopefully a win/win for you and me.
Join me in launching The Anxious Morning and making it a success.
Thank you as always for your continued support and enthusiasm for my work.
Subscribe To The Anxious Morning Daily Newsletter:
https://theanxiousmorning.email
Listen to The Anxious Morning on Your Favorite Podcast App:
Listen/Watch The Anxious Morning on YouTube:
Want to support my work in some way?  Here's how to do that!
Workshops and Courses To Help With Your Anxiety Recovery
——————————————–
https://learn.theanxioustruth.com
Join The Discussion Group
——————————————–
https://facebook.com/groups/TAGForum
My Links (social media, podcasts, etc.)
——————————————–
https://theanxioustruth.com/links
Intro/Outro Music: "Afterglow" by Ben Drake (With Permission)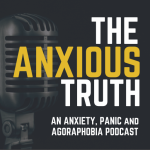 Subscribe To My Newsletter
Get notified when I publish new episodes! Get book updates, helpful information, inspiration and encouragement you can use in your recovery plan.