Introducing Disordered: A New Anxiety Recovery Resource
This week I want to introduce you to a new anxiety recovery resource. Disordered: Anxiety Help with me and Joshua Fletcher (aka "AnxietyJosh"). Josh popped in to chat about why we started Disordered, what we hope to achieve with it, and why we think its a resource everyone should take advantage of.
Listen on Apple Podcasts | Listen on Spotify | Listen on Amazon Music | Watch on YouTube
Disordered is essentially the podcast Josh and I could have used when we were working on our recovery.  Over time as The Panic Pod and The Anxious Truth have evolved, we've come to recognize how our earlier work might be improved upon.  We could go back and re-record old episodes … or we can just do something brand new together.
Enter "Disordered", a podcast that combines the shared knowledge and training of two anxiety experts with their lived experiences, input from a large community of anxiety sufferers, and a healthy dose of kindness, compassion, and encouragement.
There is no doubt that the community has shaped Disordered and really been a catalyst in its inception. Without the conversations we've been privileged to have with so many of you over the years, Disordered would not exist, and would certainly not look and sound the way it does.  We're grateful for your support and for your continued input and participation.
To learn more about Disordered, to contact us with questions or comments, and to hear all the episodes, visit us online at https://disordered.fm.
And if you're enjoying Disordered, take a moment and rate and review it on Apple Podcasts or Spotify.  We're off to a great start, and your support is greatly appreciated!
Want to support my work in some way?  Here's how to do that!
Workshops and Courses To Help With Your Anxiety Recovery
——————————————–
https://learn.theanxioustruth.com
Join my Instagram Subscriber Group
——————————————–
https://instagram.com/the.anxious.truth
My Links (social media, podcasts, etc.)
——————————————–
https://theanxioustruth.com/links
Intro/Outro Music: "Afterglow" by Ben Drake (With Permission)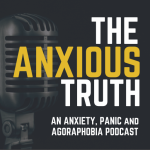 Subscribe To My Newsletter
Get notified when I publish new episodes! Get book updates, helpful information, inspiration and encouragement you can use in your recovery plan.