Lets talk about avoidance and safety behaviors and how they're a bad thing when it comes to dealing with anxiety and panic issues. Avoidance and safety rituals reinforce the mistaken belief that you need to be "saved" from your anxiety. We contrast this with the use of positive coping techniques that help teach you that you're in no real danger to begin with.
Find the original article we're discussing here:
Want to support my work in some way?  Here's how to do that!
Workshops and Courses To Help With Your Anxiety Recovery
——————————————–
https://learn.theanxioustruth.com
Join my Instagram Subscriber Group
——————————————–
https://instagram.com/the.anxious.truth
My Links (social media, podcasts, etc.)
——————————————–
https://theanxioustruth.com/links
Intro/Outro Music: "Afterglow" by Ben Drake (With Permission)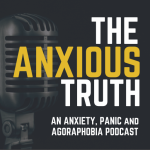 Subscribe To My Newsletter
Get notified when I publish new episodes! Get book updates, helpful information, inspiration and encouragement you can use in your recovery plan.
Find Billy at Anxiety United here: