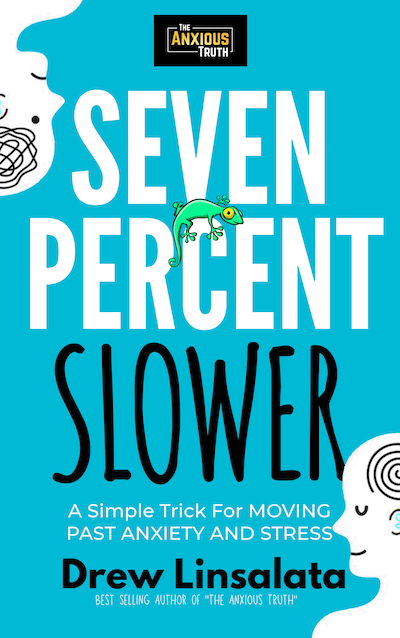 Join The Seven Percent Slower Launch Team!
Get an advance review copy of Seven Percent Slower and join my book launch team!
A no BS anxiety and panic disorder recovery guide. Yes RECOVERY! Written in a clever and humorous conversational manner, it is both educational and entertaining.

Amazon Book Review
This book is a must for anyone suffering from anxiety and panic!

Amazon Book Review
Drew is a wonderfully intelligent guide through understanding and recovering from anxiety disorders, especially panic and agoraphobia.

Amazon Book Review
What can I say, read the book and recover...I've been agoraphobic for 20 years after reading the book and practicing doing nothing I'm living again

Amazon Book Review
This is THE book to read to overcome your anxiety and fears. Well researched and Drew is VERY knowledgeable!!

Amazon Book Review
Thank You For Your Enthusiasm And Support!
What does it mean to be on my book launch team?  Simple.
Members of the launch team get an advance review copy of Seven Percent Slower (in electronic format) before the book is released to the public.
I will ask that launch team members read the book before release day (approximately Sept 15, 2021).
On launch day, I will send you an Amazon gift card that you will use to purchase the Kindle version of the book.
Once you've purchased and downloaded the book, all I ask is that you review the book on Amazon.  I am hopeful that you will find the book helpful and will want to submit a glowing review!  Rate the book on the Amazon five star scale, and write a short review telling people why you like the book and recommend it.
That's it!  Read the book and submit a review on release day. Pretty easy, right?
BONUS.  Members of the launch team will get a free copy of my next book, Lessons From The Panic Zone, and we'll run a few group Zoom sessions so that members of the launch team can ask me questions directly in a small group setting.  I appreciate your help with this project, and I'm happy to do what I can to pay back your help!
Note that only residents of the US, UK and Canada are eligible to be on the launch team.  This is due to restrictions on my ability to send you the Amazon gift card you'll use to purchase the book.
Use this form to let me know that you want to join the Seven Percent Slower launch team. I'll let you know as quickly as possible if you've been selected.  Thanks again!