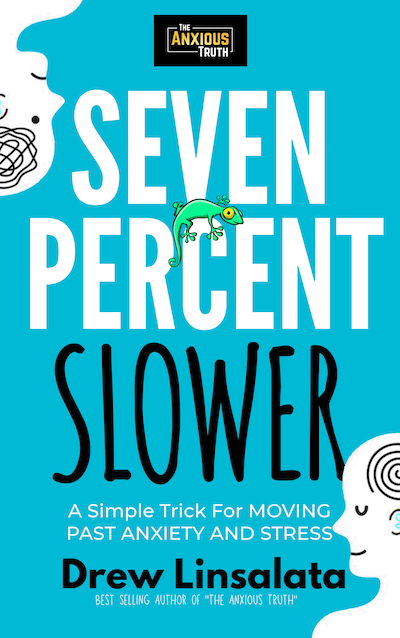 Are you rushing around all day like an anxious, stressed, fearful speed demon?
Seven Percent Slower teaches you a simple trick to help move past anxiety, fear, and stress. It's a fast, friendly read that will improve your life.
A no BS anxiety and panic disorder recovery guide. Yes RECOVERY! Written in a clever and humorous conversational manner, it is both educational and entertaining.

Amazon Book Review
This book is a must for anyone suffering from anxiety and panic!

Amazon Book Review
Drew is a wonderfully intelligent guide through understanding and recovering from anxiety disorders, especially panic and agoraphobia.

Amazon Book Review
What can I say, read the book and recover...I've been agoraphobic for 20 years after reading the book and practicing doing nothing I'm living again

Amazon Book Review
This is THE book to read to overcome your anxiety and fears. Well researched and Drew is VERY knowledgeable!!

Amazon Book Review
Seven Percent Slower is a fast, friendly way to learn a simple trick that can help you move past anxiety, fear, and stress. 
Your anxious, afraid, stressed-out state is the result your overworked and overzealous "lizard brain", the part of your brain in charge of detecting threats and keeping you safe.
Your overworked lizard brain demands that you speed up and rush through everything you do when anxious, afraid, or overly stressed.
Speeding up and rushing around actually backfires on you, fueling that anxious, afraid, stressed-out feeling you hate so much.
You need to learn how to slow things down and stop rushing around the way you do now.
How do mindfulness and meditation fit into this picture?  That can be confusing, so Seven Percent Slower will sort it all out for you!
There are simple tips, tricks, and practices that can help you slow things down and slowly calm your overactive lizard brain.
Learning how to slow things down – going Seven Percent Slower – is one way to improve your anxiety, fear, stress, and everything else.
Written in accessible, easy to follow terms, bestselling author and well known podcaster and educator on the topic of anxiety and anxiety disorders Drew Linsalata will walk you through how learning to go Seven Percent Slower might be the missing link in your quest to live a calmer, less anxious, and less stressed-out life.
For pre-release samples and excerpts, and updates as Seven Percent Slower gets closer to release, subscribe to my mailing list.  I'll keep you posted.