This is my comprehensive 70,000-word 450-page guide to understanding and overcoming panic, anxiety, and agoraphobia. The book is designed in much the same way a course or class is designed. If you are afraid, confused and lost, this book will help get you to a place where you are informed, clear, confident, and pointed in the right direction toward recovery. It covers the nature of the problem and how you arrived here. It explains why this is not your fault. There is an entire section covering the proper approach to un-learning misplaced fear. The book will teach you how to make a recovery plan, how to execute it, and what to expect along the way.
The Anxious Truth : A Step-By-Step Guide To Understanding and Overcoming Panic, Anxiety, and Agoraphobia
Get Book News and Updates
If you'd like to get occasional updates on new editions of this book, or new books I'm writing, including sample chapters here and there, subscribe to my update list.  I'll keep you posted now and then.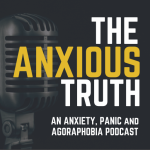 Subscribe To My Newsletter
Get notified when I publish new episodes! Get book updates, helpful information, inspiration and encouragement you can use in your recovery plan.
I promise to never spam you and NEVER sell or share your information with any third parties. Unsubscribe at any time.