I was once afraid, anxious, confused and lost. I was crippled with panic attacks, trapped by agoraphobia, and riddled with constant anxiety. I almost lost everything important in my life as my world became smaller and smaller. This is the story of my journey through anxiety, panic disorder, and agoraphobia. The good, the bad, and the ugly of panic attacks, anxiety symptoms, irrational and obsessive thoughts, and being afraid to leave my house or be left alone. This is the story of how I went from an anxious, fearful mess, to living a full, normal life no longer controlled by anxiety or its limitations.
An Anxiety Story : How I Overcame Anxiety, Panic, and Agoraphobia
Release Date: February 18, 2020 : Kindle, E-Book, Print, Audiobook
I am asked almost daily if I am completely recovered from my anxiety disorders.  I am, and I am happy to share how I did it. It's not magic, it's not rocket science, and I didn't invent any of this.  There are no programs to buy, no coaches to hire, no expensive one-on-one sessions, no herbs, supplements, crystals, or medications. Everything I needed to fix this problem was already inside me. Everything you need to fix this problem is already inside you. This is simply a story of applying behavioral science, courage, tenacity, consistency, and an unquenchable desire to overcome these problems once and for all.
I was once you, but now I am not. If I can do this, so can you. I promise.
Note: The free version of the book is an ePub book available at Smashwords.com.  You will need an application capable of reading an ePub file to read this version of the book. The iBooks app is pre-installed on iPhones and iPads.  ReadEra is a good free ebook reader for Android. I can not provide technical support for downloading or installing apps or reading the free eBook on your particular device.
Get Book News and Updates
If you'd like to get updates on new books in progress and new book releases, use the handy signup form below to subscribe to my newsletter.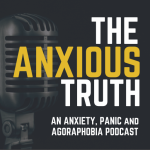 Subscribe To My Newsletter
Get notified when I publish new episodes! Get book updates, helpful information, inspiration and encouragement you can use in your recovery plan.
I promise to never spam you and NEVER sell or share your information with any third parties. Unsubscribe at any time.